Evonic Kansas Electric Fire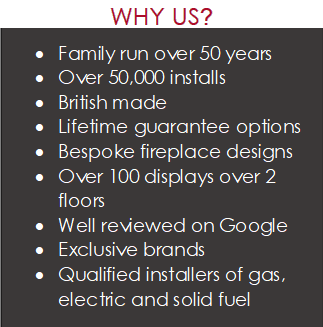 The Evonic Kansas electric fire is at the heart of the Evonic range of fires.  Being one of the first 16″ electric fires it is still going strong thanks to its classic design and expensive look.  Unlike most electric fires the Kansas has a cast iron frame which introduces it into a class of its own.  It's one of only a handful of electric fires that can complement traditional, classic and even modern fireplaces.  The flame picture is realistic and warming – thanks to Evonic's own Evoflame technology.  Available in black, chrome and nickel there is something for everyone – the nickel being a popular choice with our customers.
We are one of the UK's leading suppliers of Evonic fires and this is why we can secure the best prices.  Should you find it cheaper elsewhere we will promise to beat your quote.  Established in 1970 we all the experience and knowledge to help you find the right products.  Should you require installation we have our own fitters who are highly regarded within the industry.  You can view much of their work on our Facebook page.
We can deliver your dream Evonic to many parts of the UK and to find out more, why not get in touch.  For installation we cover Manchester, Stockport, Warrington and Cheshire.  By keeping it local to these areas we are always on hand to offer the best possible aftercare.