Looking for Evonic Fires in Sale?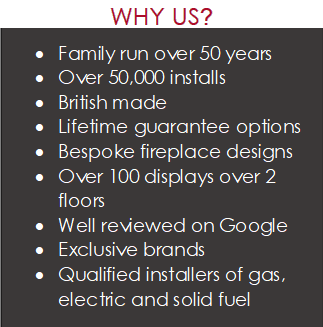 Edwards of Sale is a main dealer and one of the top UK accounts for Evonic fires in Sale.  We have been trading since 1970 and have an excellent reputation for quality and service.
A Bit About Evonic Fires
Evonic are an award winning British manufacturer of electric fires.  They cover a huge range of styles from hole in the wall electric fires to fireplace fitted fires, electric stoves and suites.  They are the fastest growing electric fire manufacturer in the UK and once you have seen their products you will know why.  For many years electric fires have looked unrealistic and cheap.  Some of the other brands such as Dimplex or Gazco have some nice products but Evonic in our view are head and shoulders above when it comes to realism.
Free Standing Suites
The best thing about the Evonic suite range is that they can be installed anywhere and no chimney is required.  They can be wall hung like the Empire suite or come in a premade fireplace form.  They use much lighter materials such as MDF so there is no assembly required, just a flat wall and you're good to go.
Our showroom on Washway Road (near the Pelican) has many Evonic fires on display.  We supply the benches for the larger 3-sided models and can custom make them to any size in any colour.  Should you require a fireplace we also have many on display covering contemporary and classic styles.
For the best range of Evonic fires in Sale and one of the UK's leading dealers, why not call in.