DRU Manchester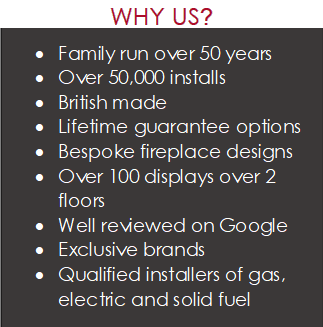 Looking for a DRU Manchester dealer?  Edwards of Sale is the oldest dealer in the North West and has an excellent reputation – especially when it comes to DRU.  We are family run and now trading for over half a century.  Our showroom in Sale has two floors of displays with many DRU and Global fires for you to view – all of which are live displays so you can see them lit.
About DRU
DRU have been trading for over 250 years manufacturing all manner of heating appliances out of Holland.  In more recent years they have become the industry leaders and gas fire technology and design.  They export to many countries in particular within the EU and this is testament to their investment and innovation.  With a high level of manufacturing a DRU fire is an investment that will provide you with stunning visuals and last for many years.
Our Service
We offer a complete one stop service, from our highly trained sales staff to experienced surveyors and finally our fully qualified installers.  These fires require a high level of expertise when it comes to installation and our fitters come with DRU's recommendation.  Should you require a stone frame or fireplace to house your fire, we make all our own products and can custom make them to size and in any material.  Popular choices at the minute are stones, granites and marbles.  For frames, slate is popular although we wouldn't recommend a complete slate fireplace alone.
For more information about the oldest DRU Manchester dealer, why not call in.