Discover the Evonic HALO 1800 Electric Fire – Unmatched Elegance and Our Best Price Guarantee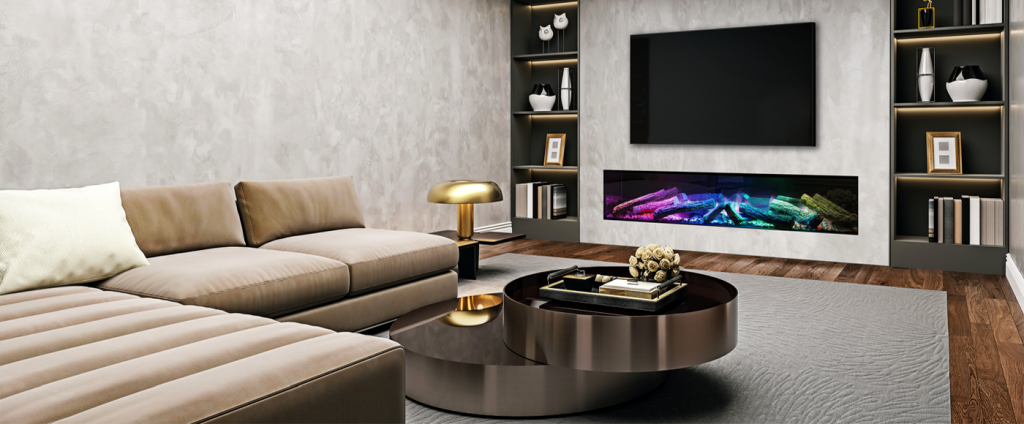 Are you looking to add warmth and beauty to your living space? Look no further than Edwards of Sale, a family-run business with a rich legacy of over five decades, providing top-quality fires and fireplaces to satisfied customers in Manchester and across the entire UK.
The Evonic Halo 1800 Electric Fire – Previously Avesta, Now Even Better
At Edwards of Sale, we are committed to bringing you the latest innovations in electric fires, and the Evonic Halo 1800 is a true testament to our dedication. Formerly known as Avesta, this upgraded electric fire boasts a remarkable 1500W heat output, ensuring your room stays cozy and comfortable during the colder months.
Enhanced Viewing Experience with SCHOTT® CLEAR FLOAT or UHD Front Glass
Enjoy a crystal-clear view of the mesmerising flames with the Evonic Halo 1800's SCHOTT® CLEAR FLOAT front glass. For those seeking an even higher level of clarity, we offer an upgrade option to UHD (Ultra High Definition) front glass, taking your fireplace experience to a whole new level of visual perfection.
Customisable to Suit Your Style
Personalise your fireplace with your choice of fuel bed. The Evonic Halo 1800 comes with a Continental log set, exuding a classic and timeless charm. If you prefer a more contemporary look, we offer the option to upgrade to split ceramic or British woodland, allowing you to tailor the fire to match your interior design vision.
Smart and Connected – e-smart Cloud App and Voice Control
Experience the convenience of modern fireplace control with the e-smart cloud app and included remote control. Seamlessly adjust the flame settings and heat output from anywhere in the room. Moreover, the Evonic Halo 1800 is compatible with Amazon Alexa or Google Home, offering you the convenience of voice-controlled operation.
Enhanced Ambiance – Overbed Illumination
The Evonic Halo 1800 goes beyond just heating your space. Its over-bed illumination feature adds a warm and inviting glow to your room, creating the perfect ambiance for relaxation and comfort.
Versatile Flame Settings and Effects
Unleash your creativity with the seven flame animations and seven solid colour flame effects of the Evonic Halo 1800. Tailor your fire to suit your mood and setting, making every moment spent by the hearth a unique and enchanting experience.
Independence in Fuel Bed Settings
At Edwards of Sale, we believe in providing you with options. With independent fuel bed settings, you have the freedom to customise the look and feel of the fire, making it uniquely yours.
Our Best Price Guarantee – Unbeatable Value
At Edwards of Sale, we are dedicated to providing our customers with the best possible prices on all our products. With our best price guarantee, you can be confident that you're getting the Evonic Halo 1800 electric fire at the most competitive price available. Additionally, we offer a free conversion kit, allowing for GF1, GF2, or GF3 modification at no extra cost, ensuring your fireplace meets your specific requirements.
Order Your Evonic Halo 1800 Electric Fire Today
Don't miss out on the opportunity to own the exquisite Evonic Halo 1800 electric fire. Place your order today and experience the perfect blend of elegance, technology, and warmth with Edwards of Sale.
Visit Our Manchester Showroom or Shop Online – Nationwide Delivery Available
For our esteemed customers in Manchester, we invite you to visit our showroom and explore the Evonic Halo 1800 and our extensive range of fires and fireplaces. For those located elsewhere in the UK, fear not! We offer nationwide delivery, making it convenient for everyone to enjoy the beauty and comfort of the Evonic Halo 1800.
Contact Us for Expert Advice
Need guidance or have inquiries about choosing the right fire for your home? Our friendly and knowledgeable team is here to assist you. Contact us today via phone or email, and let us help you discover the perfect fireplace solution for your needs.
At Edwards of Sale, we take pride in transforming houses into homes with our exceptional fires and fireplaces. Experience the sophistication and warmth of the Evonic Halo 1800 electric fire and elevate your living space to new heights.