Evonic e600 Electric Fire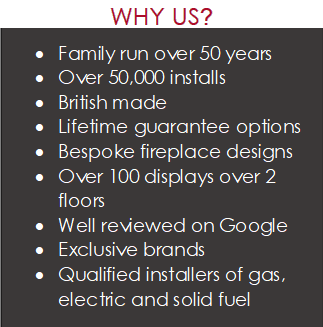 Our take on the Evonic e600 electric fire and why it's such a popular choice.
Evonic have gotten the proportions of this fire just right.  It delivers an almost hypnotic flame effect that has many of our customers fooled into thinking it's actually a gas fire fire.  In lower light this flame – powered by Evoflame technology – is far superior to any other electric fire of its kind.
The e600 is a truly versatile fire that can be fitted into a fireplace or directly into your chimney breast.  Both options have their own merits and this is just down to taste.  In the wall it can have a plastered finish for a classic understated look, or a stone border can be installed giving the overall look more impact.  Regardless of your preferences the Evonic e600 electric fire is uncompromising, stunning and versatile.
You can find this product on live display in our two story showroom.  We are one of the UK's leading suppliers of Evonic and have a price guarantee with every fire in their range.  If you see a model cheaper we promise that we will beat that price.
We operate primarily around Manchester, Warrington, Stockport and Cheshire.  This way we can offer you the best possible service and aftercare.  For delivery we can travel much further although you will need to contact us to find out more on our supply only options.
Being Manchester's first and oldest fires and fireplace showroom, we have an excellent reputation and feel we can offer you the best value around – not just on price but aftercare alike.